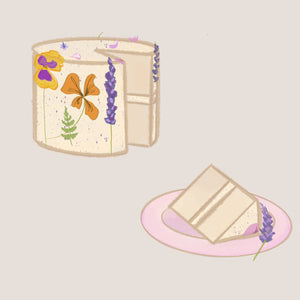 Earl Grey Cake Recipe
In this article, we'll show you how to make a mouth-watering Earl Grey cake, infusing the classic tea's aromatic charm into a delectable dessert.
It is the time of year again for garden parties – a wonderful way to be with friends and family, enjoying the sunshine on a summer afternoon. As always, we at Char are delighted to hear how you are enjoying our delicious teas, and a short while ago a customer came into the shop to restock on our most popular Earl Grey tea, and told us they were going to make a cake with it. Naturally, we had to give it a go ourselves, and we are very pleased to find that this Earl Grey Supreme cake it is a secret too good to keep to ourselves. A perfect, decadent accompaniment to any garden party.
INGREDIENTS
Earl Grey Supreme Latte
Earl Grey Supreme Cake
Plain flour
 625g
Baking powder
2 teaspoons
Earl Grey Supreme
1 teaspoon (ground)
Salt

¾ teaspoon

Unsalted butter
375g (room temperature)
Granulated sugar
625g
Eggs
3
Vanilla extract
1

½ teaspoons

Earl Grey Supreme latte
250g (cooled)
Earl Grey Supreme Sugar Syrup
Lavender Earl Grey Buttercream Icing
| | |
| --- | --- |
| Lavender Earl Grey | 1 teaspoon |
| Granulated sugar | 50g |
| Water | 50g |
| Butter | 300g |
| Icing sugar | 600g |
| Vanilla extract | A few drops |
METHOD
Earl Grey Supreme Latte
Warm milk in a saucepan over a medium heat until it begins to bubble steadily.
Reduce temperature, add Earl Grey Supreme, and stir gently for approximately 2 minutes.
Remove saucepan from heat, allow to cool for 10 minutes.
Strain 250ml into a measuring jug.
Earl Grey Supreme Cake
Preheat oven to 200°C for a conventional oven, 180°C for a fan oven.
Grease two cake pans with butter, dust with flour, line both with greaseproof paper.
In a medium-sized bowl, combine flour, baking powder, ground tea, and salt. Whisk well.
In a large-sized bowl, mix butter and sugar until fully-combined and fluffy in texture.
To the butter and sugar, add eggs one at a time, ensuring each is fully combined before adding the next. Add vanilla extract.
Add one third of flour mixture to large bowl, followed by half of Earl Grey Latte. Alternate adding flour and latte mixtures, fully incorporating after each addition.
Distribute batter evenly between your two cake trays, cook for around 35 minutes or until there is little to no batter transferred when a skewer is inserted and removed from the centre of the cake.
Allow cakes to cool for 10 minutes within their cake trays, and then completely on wire racks until you are ready to ice them.
Coat cake surfaces with thin layer of Earl Grey Supreme sugar Syrup for extra moisture.
Earl Grey Supreme Sugar Syrup
Place sugar, water, and Earl Grey Supreme tea in small pot on a high heat. Simmer for 2 minutes.
Remove from heat, allow to sit for 5-10 minutes longer.
Strain and allow to cool.
Lavender Earl Grey Buttercream
In a medium-sized bowl, beat icing sugar and butter until well combined.
Repeat sugar syrup process above with Lavender Earl Grey.
Add two tablespoons of Lavender Earl Grey sugar syrup to icing sugar and butter.
If desired, add a few drops of vanilla extract, and combine until smooth.
Spread smoothly on (now cooled) Earl Grey Supreme cake, with generous attention paid to the join between cake layers.
You can decorate your cake with cornflowers and lavender – edible flowers are perfect for a summer picnic treat!
Enjoy alongside a refreshing Rooibos Vanilla and Lavender Blossoms cold brew latte to enhance the sweet and floral elements of this cake.
---